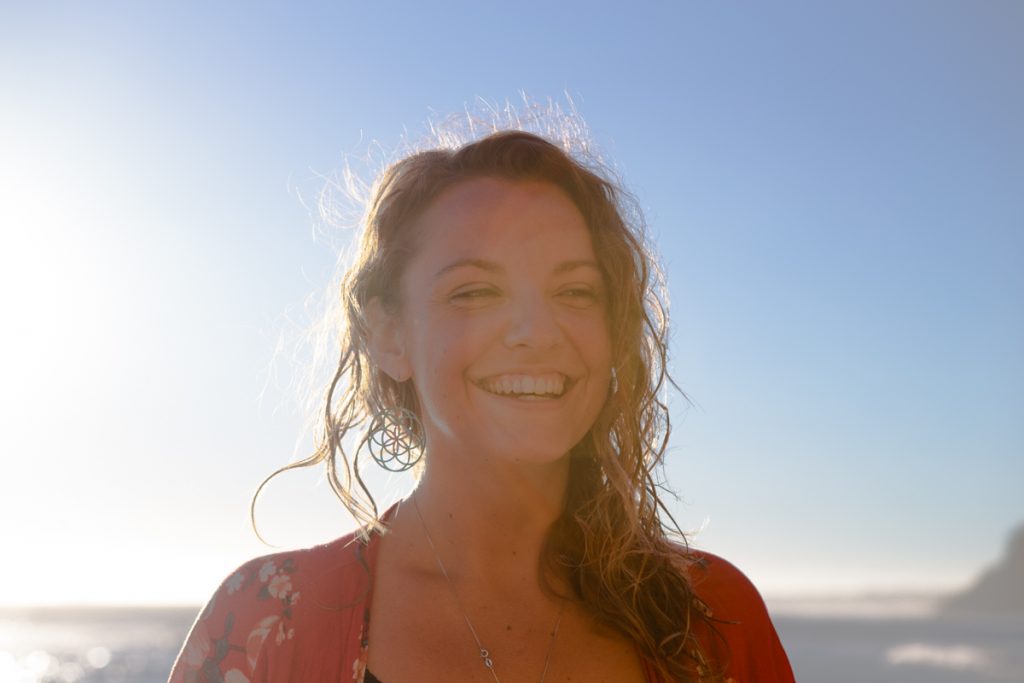 An important question that leads one to inquiry about the nature of Self. Who am I? I am not only this physical body, the senses that perceive the external world, the waves of emotions that flow through me, nor am I the thoughts that come and go like the hummingbird that stops for a drink at the columbine, and then buzzes off for another feeding. So, what else? The Higher Self. An awareness; sat-chit-ananda. Truth-Consciousness-Bliss.
I aim to dedicate my life towards evolving consciousness and relieving suffering. I find somatic & holistic healing practices such as massage therapy and ayurvedic bodywork align with this ideal. The body and nature provide us with endless opportunities to evolve and align with Self. I am grateful to have spent several years living in an intentional community (Mount Madonna Center), surrounded by magical redwoods and wise beings dedicated to self-evolution. My studies that influence my offerings include Eastern Mysticism, Classical Ashtanga & Hatha Yoga (as taught by Baba Hari Dass), Western Psychology, Ayurveda, Kundalini Yoga, Swedish Massage, Deep Tissue Massage, Trigger Point Therapy, Myofascial Release, Lomi Lomi, Polarity, Astrology and Herbalism. I humbly bow to my teachers that have helped ignite the inner flame.
I believe in the intuitive wisdom of the body and I find somatic, yogic and holistic practices to be a highly effective way to facilitate healing within. I view healing as a symbiosis of body, mind and spirit in alignment with Truth/Love/Self. It is my intention to be a guide and offer paths to awaken your inner healer!
in love,
Durga
---
Education & Experience
University of Michigan – Bachelor of Arts, Psychology (2012)
Karma Yoga – Yoga Teacher Training Program 200 hours (2012)
Kundalini Teacher Training – Sat Santokh Singh & Prabha Nam Kaur (2013)
Mount Madonna Institute – Yoga Teacher Training Program 200 hours (2013-15)
Mount Madonna Institute – Yoga Teacher Training 200HR Teacher (2014-15)
Mount Madonna Center – Yoga Teacher (2013-15, 2016-19)
Pacific Cultural Center – Yoga Teacher (2016-19)
Pure HealthyBack Physical Therapy – Yoga Therapist (2015-16)
Monterey Institute of Touch – Certified Massage Therapy Program 500 hours (2016)
Mount Madonna Institute – Ayurvedic Bodywork Program (2018)
Kaya Kalpa Wellness Center – Spa Manager & Lead Massage Therapist (2017-19)
Pebble Beach Spa – Massage Therapist (2019-20)
Sage Float Spa – Lead Massage Therapist (2019-2022)
California College of Ayurveda – Ayurvedic Facials Course (2022)
Sofia University – Master's in Counseling Psychology (2023 – Present)
along with a decade (& ongoing) of self-study in Yoga, Eastern & Western Esoteric Mysticism, Herbalism, Holistic Health, Ayurveda, Psychology, Tarot and Astrology.
---
"What we call "I" is just a swinging door which moves when we inhale and when we exhale."

― Shunryu Suzuki